If you are new to the crossdressing world then navigating woman's fashion can be overwhelming. It's not as simple as dressing for a male. Women have so many choices when it comes to clothing and you need to know the most flattering types of garment that will help feminize your body-type. Being a male, women's sizing can be a mystery too unless you know how it all works. Good thing Glamour Boutique is here to lend a helping hand!
Follow our 6 tips for beginner crossdresser shopping:
Stretch The Fabric
Only Shop Where There's a Return Policy
Bring Padding and Breast Forms
Know Your Measurements
Check if Made in China
Shop for the basics first

Larger Girls need Specialist Retailers
Stretch the Fabric
Be sure that the garment has some give. A male body is different in dimensions to genetic females. The result is a women's top. for example, will be shorter in the sleeve, narrower across the shoulder and shorter in the torso. A stretchy fabric will allow for 'give' in these problem areas. Take it off the hanger and see if it stretches a bit. Take a look at the label; it needs to have a small percentage of lycra/spandex. 100% cotton or polyester for example will not work. Nothing is worse than a stiff blouse. Plus, if you don't want to try it on at the store the stretchy material will have a higher chance of a nice fit!
Check the Return Policy First
Don't be that person who is stuck with an ill fitted blouse just because you didn't check the return policy. It is usually very easy to find a company's return policy on their retail site. If not, ask any sales associate or call the customer service number! Trust us, doing this before buying will save you some money some day. To ensure you have a hassle-free return take care of the garment: make sure tags are not removed and keep the original packaging along with the receipt. FYI: Glamour Boutique has a great return policy. Check it out here.
Glamour Boutique manufacture specialist fashions for crossdressers and transgender girls. See some of our most popular and flattering skirts, tops and dresses for men modeled by Heidi Phox.
Remember to Bring Padding
I am sure one time or another you have been in the changing room, wishing you had brought your favorite shapewear to see the full effect. Wouldn't it just make sense to bring some? Dresses, skirts and pants in particular are cut wider in the hip area and without padding the fit will be too loose. To show the true effect of a female designed garment you must pad out the parts that need most: hips and bust. So, throw in your bag some breast forms or hip pads! No one will ever know.
Be Sure to Know Your Size
The process will go a lot smoother if you know your size. Take five minutes to record your body measurements. This way you can check the stores size chart to easily find the more accurate fit for you. The key measurements when buying ladies clothing are your waist and bust measurement (remember to measure with padding/breast forms) . Unless on hormones you will always need to add hip and butt padding so do not try to match hip size with your actual body size. For more assistance on converting your shoe size read our other article here.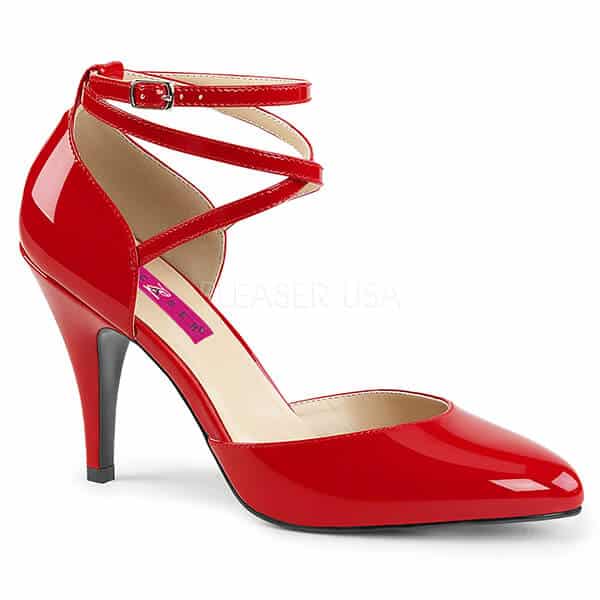 Check if it's Made in China
Items that are made in China usually are made smaller than U.S. sizes. Check the tag before purchasing or contact the company to find out for sure. This will save you the trouble of false advertising on products that don't add up size wise.
Shop For the Basics First
The Basics as in jeans, black tops, black skirt, a neutral colored dress, panty hose, and some black heels. This will give you the ability to mix and match multiple outfits with few clothing. Stay away from buying color, and stick with black white, and grey. This will ensure that everything matches easily. You can always add splashes of color with affordable accessories like belts, scarves and costume jewelry.
Larger Girls need Specialist Retailers
Smaller-framed crossdressers will often have no issue shopping at the regular big-box stores but the larger your frame, the more issues you will tend to have trying to fit generic girl clothes. Specialist retailers like Glamour Boutique have experienced designers and manufacturers that understand the differences between a female body and a male body and so ensure garments fit correctly and are made from the right materials to flatter and enhance your feminine shape.
I hope these 6 tips for dressing as a crossdresser help you on your next trip to the mall! These tips are to help you when shopping for clothes intended for genetic females. Alternatively, you can shop at a specialist Crossdresser Clothing Store that designs female clothing styles to fit a male body. That way, you know for sure that dresses, skirts, tops and shoes will fit. Be sure to let us know how they go! You can email us at Glambmarketing@gmail.com anytime!