The average female anatomy is more drawn in at the waist than a male's natural figure, which does lend itself nicely to an hour-glass shape. The shoulders are narrower and ideally the waist is slimmer, widening out to well-proportioned child-bearing hips. If not blessed with the average or ideal female form, what's a girl to do? Taking into consideration that surgery is not necessarily a step we'd choose to take at this point in time, there are many aids out there to help us create a more feminine illusion and they don't have to be expensive solutions.
Easy Ways to Appear More Curvaceous
Glamour Boutique has always sought to offer their customers value for money solutions. So whilst we offer medical-grade silicone breast forms we also recognize that not everyone can afford over $150 dollars for a top of the range pair and so we offer more affordable solutions too. Similarly, whilst we offer some of the best selling padded panties to help accentuate hips and rear, we also offer cheaper versions that can just accentuate the rear. Pairs of single pads can also be purchased which can be used in addition to padded panties or simply alone stuffed into panties.
Athletic Torso Solutions
Persons with a more athletic V-shaped torso and bigger shoulders should especially look to balance the broad shoulders and slim waist with rounder hips and rear. This will not only nullify the natural more masculine features but will also add balance to breast forms. As with breast forms you should feel comfortable with the amount and size of padding. When trying to pass as a beautiful femme it's important to look gorgeous but as natural as possible. If you enhance your chest to a 44DD with the help of large silicone breast forms and yet you are less than 5'4″ tall, the chances are you will attract a lot of stares from people around you due to the unnatural look you are achieving. Whilst hip and fanny padding will soften and balance the look somewhat, it's better that all enhancement is kept in proportion with your natural physical attributes.
Jaw-Dropping Waist Cinching
Padding has many uses and with the resurgence of beautiful traditional corsets, pads can often be used to enhance the hour-glass figure achieved by use of such garments. Most taller or full corsets are modeled on an average female shape and as such flare out at the top to fit the female rib-cage and bosom area. Corsets and waist cinchers as a whole also work better on persons with an inch or two of spare flesh to pinch. Whilst an hour-glass figure can also be achieved by a slim person with a long torso, they may find space between the panels of the corset and the flesh where the corset flares. Strategically-placed padding will invisibly fix this and is certainly a cheaper solution to having a corset tailor-made.
Padding on a Budget
If working on a budget you can make homemade pads from foam. The important point to remember is that beautiful female curves are soft and do not have hard edges so bear this in mind when shaping your own. Ready made tapered pads are easily available that will give the subtle curves needed to accentuate the feminine form and they can be bought for $10 to $20 a pair.
Why Choose Professionally Made Body Shaping Pads?
The advantage of the professionally made padded panties that are readily available these days is that they usually have the padding sewn in place or even better, they have removable foam or silicone padding that slip into and out of internal pockets that again, keep the padding symmetrical and in place when one moves. Don't be tempted to go for the biggest pads in padded panties – size is not everything. To be believable you need to achieve subtle, rounded curves as opposed to obvious padding shapes placed strategically around the hips and buttocks.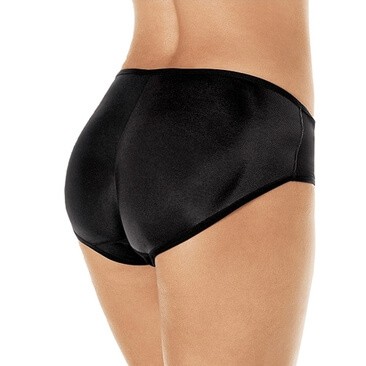 So remember, achieving a curvaceous figure is not just about the bust area. You need balance and so look to the waist and hip and fanny area too to get that femme figure. Experiment and start small and build up – it's all great fun to see the inner, ideal you come to life.