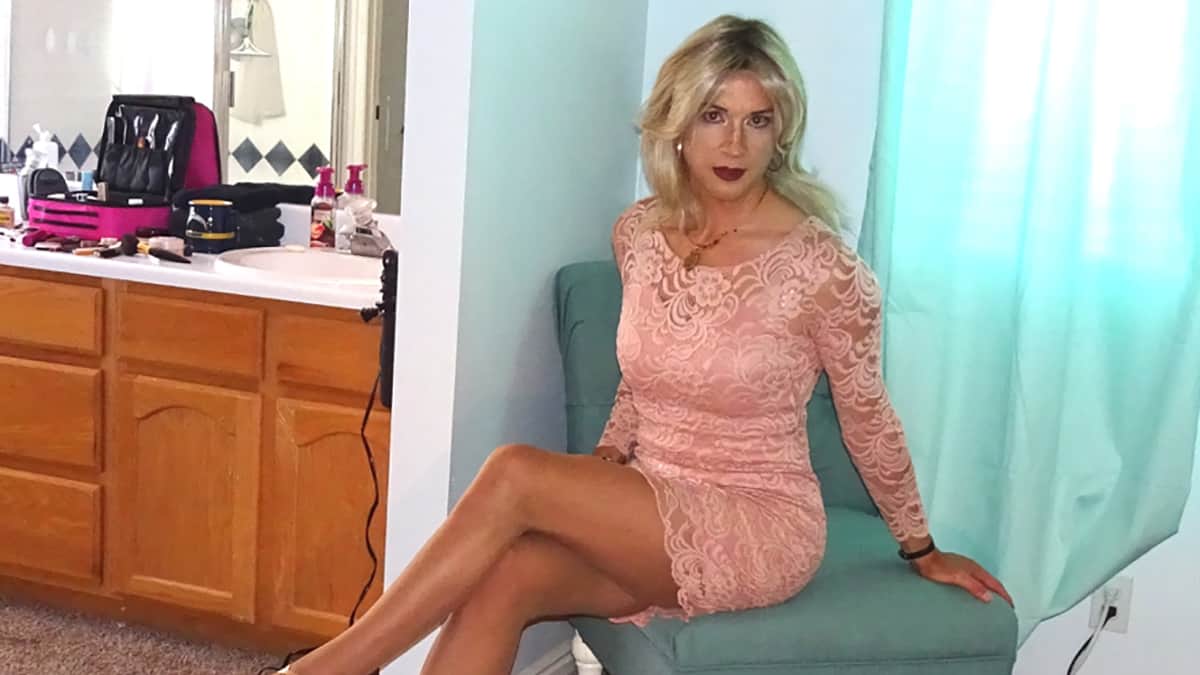 Glamour's eye candy champion – Heidi Phox
Congratulations on becoming this year's Grand Champion. How does it feel to be the Grand Champion of this year's Glamour Girl Photo Contest?
It feels great but also very humbling. I have learned from many beautiful and classy ladies and I always hope that I can pass along some of what has inspired me. I try to be a good role model especially for others like me that hold their marriage and parenting roles in high regard.
Where are you from?
I grew up in New England but have lived on both coasts. I now reside in Utah. Many people think that would be a scary place for a crossdresser and maybe it is compared to some places but so far I've been treated very well every time I've been out in public. The few people that know about my feminine side have been surprised but not objecting to it.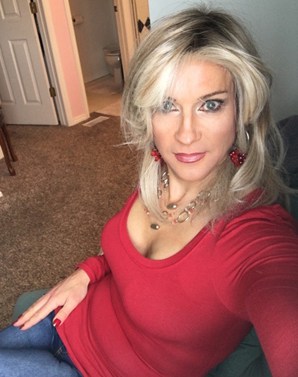 When did you first start dressing and how did it come about?
I've really been doing it on and off all my life. My two older sisters would occasionally dress me up and treat me like a little sister. When I got older I would fake being sick to stay home from school to dress up in my sisters and mom's things. I always felt proud of being able to look feminine and emulate refined femininity.
How did you come up with your Femme name?
My wife helped. When she accepted my feminine side it was kind of awkward trying to refer to my femme side. One day while joking about something unrelated she said, "you are a real Dr. Jekyll and MRS Hyde." She laughed at her own mistake and said: "That's what we will call your female persona, Mrs. Hyde". After a while, "Mrs. Hyde" seemed a little matronly and it morphed into "Heidi". The "Phox" part I came up with myself because I love seeing foxes when out walking or hiking and the word fox also refers to the attractive female I aspire to be.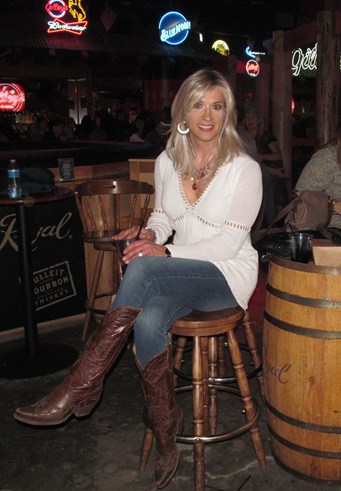 How often do you dress?
I dress about once or twice a month. More in the winter when the weather is bad and less in the summer when there are so many other activities I'm involved in. I go on Heidi vacations a few times a year where I travel to conventions or meet friends for a few days of girl-time. Sometimes my wife comes along, sometimes not.
Are you married/in a relationship? If yes, are you able to share your female self with your partner?
I told her about my penchant for dressing before we were married but implied I didn't do it anymore. Eventually, the desires crept back and I told her I wanted to do it again. After many ups and downs, we have come to a good place where she doesn't feel like I will stop being her husband to be full time and I don't worry that she will leave me because she can't take it anymore.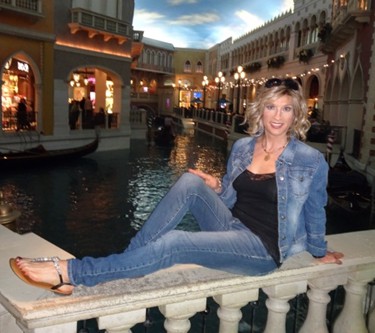 What are some of your favorite outfits/fashions?
I love tight jeans and nicer casual looks. Often referred to hot soccer mom or MILF look. Of course, I like heels and dresses but I try to find outfits that appropriately fit certain situations whether real or imagined.
Stockings or pantyhose?
I often don't wear either because I like to show off my painted toenails and because bare legs are more in style than nylons. However, I know my legs look better in nylons so I wear pantyhose whenever possible.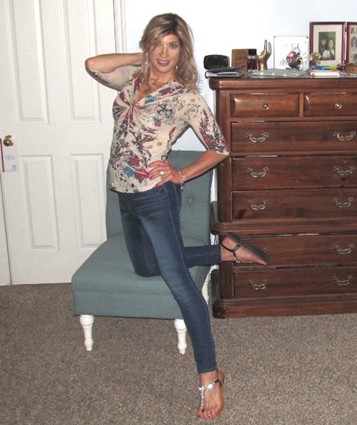 Heels or flats?
I wear heels whenever I can do it appropriately for the situation. Often wedges or boots with heels can be worn with more casual outfits but I will wear flats if there will be a lot of walking or I'm trying my best to blend in.
Favorite places to go when dressed?
Of course, shopping as Heidi is a treat since I can try on clothes with all of my curves beneath and there is less guesswork. I also love to go country line dancing as Heidi. I often go with my wife as husband and wife but since the steps are the same for everyone it's fun to do it dressed as Heidi once in a while. I also enjoy going to photogenic locations to take pictures in beautiful settings.
Go to accessories for a night out
I try to match my accessories well. Jewelry mostly. I love noticeable earrings. A simple necklace that is V-shaped gives the chest a feminine look. My wife bought me a "wedding" ring so that I wouldn't have to wear my manly wedding band. I always include bracelets and a feminine phone case as well.
Who is/are your female role model(s) and why?
I've always loved the look and styles of Marie Osmond and Kathy Lee Gifford.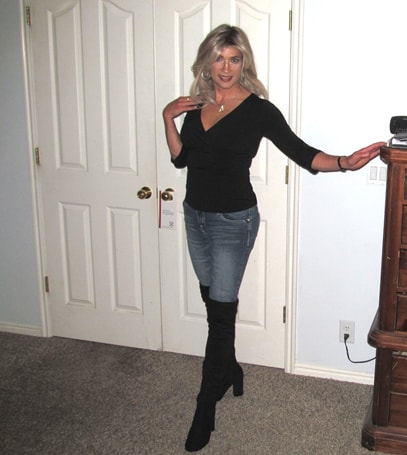 Tell us some fun facts. Do you have any hobbies (either when dressed or not), likes, things you do in your spare time or anything else you would like to share about yourself?
I am generally a pretty normal guy. A devoted father and husband. I'm pretty active and always seem to be doing something.
I run several times a week to stay thin and have run many marathons. I did a one-half marathon as Heidi and had many interesting interactions with others that day. I plan on doing it again this fall.
Any stories you would like to share about yourself and your journey?
At the Halloween half-marathon I did I had an interesting encounter. About half the runners were in costume. After the race was over and runners were milling about waiting for their warm-ups to be trucked down from the starting area a woman approached me and said, "Excuse me. Do you know where we collect our sweats?" Without thinking I answered in my regular voice where I thought the bags would be brought. She stared at me blankly and then said, "You're a man?" I just chuckled.
Apparently still unsure she said, "Are you?" I told her I was and she thanked me and then walked away from me a little shocked.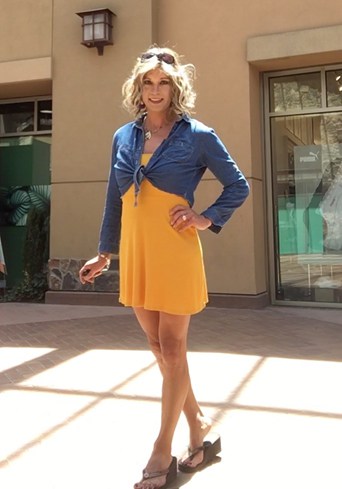 If you have social media, what is the best way for others to follow you?
I have a blog page http://www.heidiphox.com and regularly post videos on Youtube.
Thanks Heidi! And Congratulations on your big win this year. We look forward to seeing more of you in the future!
As we enter our second year of Eye Candy, we are so excited to hear more stories and get to know some of our girls better. Thanks to all of you that have made our Eye Candy features so popular. We could never do any of this without you!
If you would like to be featured as an Eye Candy Girl, email us at glambmarketing@gmail.com or by messaging us on our Facebook page.
For more Eye Candy head over to our blog. See you next month!!