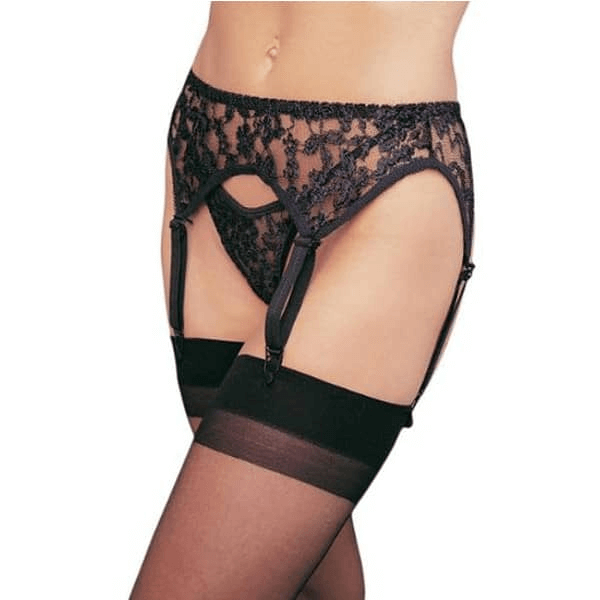 A lot of girls find the ins and outs of wearing garters to be a little complicated, especially if you are new to it. Stockings and wearing with garters is once again achieving widespread appeal. Many customers have asked advice on garters and how to wear them with their stockings or corsets, so we want to put this piece out there for you to help our girls like we love to do.
The garter and garter belt have been around for many years. They came into popularity in the 1940s as an alternative to girdles which were always very bulky. During the 50's/60's, stockings that required garter belts started to wane in popularity as women started to feel that the whole process was too time-consuming. However, the last decade has seen a resurgence in garters and stockings whether for fashion, power dressing female execs or just full-on sex appeal. The truth is, garter belts and garters can actually be more comfortable than tights or pantyhose.
Garter Sizing
First off, in order for you to wear the garter belt without issues like it falling down (too big) or pinching your waist (too tight), you need to measure yourself correctly. You will need to measure your waist with a measuring tape to get the right size. Once you have your size sorted out, you can head over to our Garter section and see what style and size match up to your liking, where we also offer charts to match up your waist size to garter belt size. Since there are so many styles of garter belts, we always encourage emails or phone calls if you are in need of any additional help to find what's right for you. * as a rule of thumb we advise going down at least a waist size in garter belts and girdles as we have narrower hips than genetic ladies.
Attaching Your Garters
Once your garter belt or girdle is chosen, you need to pick some stockings. Now garters originated to help keep the stocking from slipping off. Contrary to what you see in many ads for garter belts, the correct way to wear them is around your waist so the slope of your hips holds the belt up and in turn, holds the stockings up.
Once you pull up your stockings, you should be able to easily secure the front garters to your stockings as they run down your thighs. The back garters can be secured by either standing and reaching around if you have long enough arms or by simply sitting in a chair and reaching between your legs while propping your foot up on your bed or another chair.
Let's backtrack a minute and also explain the attachment process in a little more detail. Once you pull the garter toward the stocking, open the garter clip by sliding the rubber nub out of its loop and then place the edge of the stocking over the rubber nub and then sliding both the nub and stocking into the metal hoop. Now pull the stocking and nub down into the smaller party of the hoop. Be careful not to do this in a rough fashion as you run the risk of tearing the stocking. Once it is all secure, you can adjust the garter to a comfortable spot where your stocking is secure.
If you decide to purchase Stay Up Stockings, if fitted correctly you don't necessarily need a garter, but if you like the look and the feel of stay ups, just make sure that you have really good garters that will secure good enough through the thicker fabric of the stay ups as the stay-ups have a thicker, wider band of elastic or in some cases a silicone band to keep everything tight.
Garters and Corsets
A favorite look for many CD girls we talk to is a corset with garters. Now while this look is totally sexy and fun for the bedroom, you still need to get the garter side of things right here. First off, make sure you corset is long enough to use garters. There are two ways to use garters with the corset once you have your correctly sized corset but both do require you to have the right length corset.
First is to wear a garter belt under the corset. The corset length will hide the garter belt mostly out of view, showing just the garters. The other way is to purchase a corset that has garter tabs. These are common throughout most corsets. Then purchase a set of garter straps. Take the hook side of the garters and put them through the loops on the corset. There is an inside and outside of the straps, so make sure to not mix the sides up. The outside of the straps has a metal slider which is used to adjust the length of the straps. Attach all the straps to the corset before putting it on as it is way easier to do so while off then on. Once the corset is on, you can adjust the garters to reach and fasten securely and comfortably.
Adjusting Your Garters
One last thing. Adjusting your garters can be challenging if you are new to it all so let's go through a few quick tips:
Flip up the metal glider on the garters, unlocking them. This will help with moving them around
To make the strap longer, take the upper part of the garter and pull down on the slider. The lower portion loop will become smaller, making the strap longer. To make the strap shorter, pull up the metal slider while also on the elastic loop on the bottom. The bigger the loop, the smaller the garter
Once you find a length that suits you best, put down the metal slider so it can secure itself to the stockings keeping everything in place
We have received a few emails from girls asking for and giving tips on wearing garters under a crossdresser gaff or panty OR over/outside of a panty or gaff, when worn with a corset or garter belt. Whilst visually they look better outside the panty this does mean un-clipping the garters from hosiery to go to the bathroom. However, wearing garter straps under the panty or gaff does not look great with a corset, in particular, so you have to make the choice between practicality and 'look'. Another solution someone mentions is to wear crotchless panties.
If you are looking to get into corsets, check out our store and choose from a wide variety of corsets. For more corset tips and advice, head over to our Corset Tips section of our blog.