BUYING A WIG TIPS AND INFORMATION
What considerations should a crossdresser take into account when deciding on the correct hairpiece to complete a transformation? As well as shape of face, natural hair coloring, skin tone and 'look' you are trying to achieve the size of the actual wig cap is arguably the most important consideration. In the learning center you will find other articles covering the subject of wig choice based on your own physical attributes apart from the obvious one of size of head.
CHOOSING A WIG
A number of factors will determine the choice you make whilst wig shopping. Chief considerations should be:
Budget
Formal, informal or fashion wear
Shape of face
Own skin and hair coloring
BUDGET: Whilst there are high-end human hair wigs costing hundreds and even thousands of dollars it is quite possible to find very good quality synthetic hair wigs for a fraction of the cost. There are many varieties of wig companies offering varying levels of pricing at $100 or under and we strongly recommend Louis Ferre, Wig America, Esthetica, Motown Tress and even our own Glamour Boutique label wigs.
FUNCTION: Decide on the everyday use of the wig. Is it for attending a formal workplace, a glamorous party or simply for wearing in the comfort of your own home? Such considerations will impact on your choice of wig style and color, for example. If attending a party you can obviously be more fashion conscious and daring with color than if you are simply trying to achieve a subtle everyday look.
FACIAL SHAPE: Always choose a wig that enhances your natural facial shape and bone structure. Most common facial shapes are oval (longer length than facial width but extremely well-proportioned), round, narrow-faced and square-faced where there is a prominent jaw and brow/forehead of similar width. Any length and style of wig will compliment the perfect oval-shaped face if you are fortunate enough to have such facial features. Rounder facial features and strong brows and jaw features normally require longer styles and the addition of layers or curls help to diffuse such strong facial characteristics.
Knowing your head measurement is very important especially when shopping online so that you do not end up with an expensive mistake on the top of your head. Most vendors selling wigs will not allow returns/exchanges due to hygiene regulations so be sure the wig you are buying will at least fit comfortably and stay on your head. Once you know your head measurement you will know if small, average, large or even X-large wigs are what you need to look for. When shopping for wigs, if it doesn't tell you on the page you are looking at if the Size is Average, Large etc then make sure to ask.
Arguably, a woman's hair is the most important component of her overall look. Crossdressing involves more than just clothing; hair is a key part of the feminine presentation. Finding one or more wigs that help you achieve your desired look is practically essential. Furthermore, if your wigs are to look reasonably natural, they should be in an attractive size. Here I am not referring to a short, medium, or long hairstyle – that is a matter of personal preference and the type of look you wish to create. Rather, I am referring to a wig that sits properly on your head. Ensuring that this will be true requires measurement .
Measuring your head's circumference is critical and must be done at the correct hairline level to ensure a true and accurate measure. Once you have this piece of information you can then be sure you will always be purchasing a wig that fits.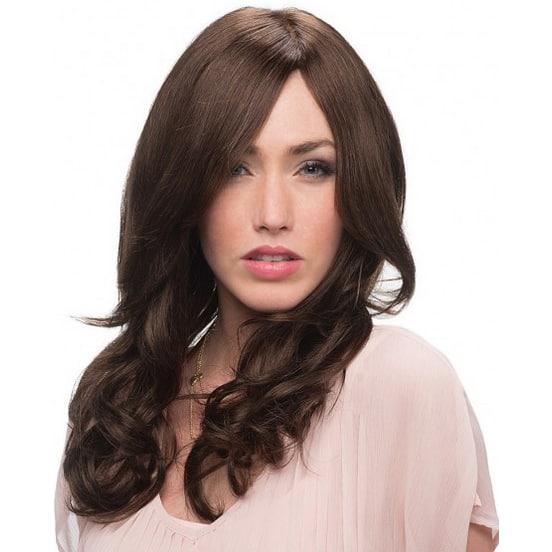 Measuring your head size is an important task to endeavor prior to purchasing a wig. Before measuring, make sure to flatten your hair, use a cloth tape measure and do not pull the tape measure. Just let it rest over and around your head. Pulling will stretch the tape and this will result in giving you the wrong size. Measure around your head at the hairline. The "around your head" size of every wig can be adjusted up to 1" large or smaller to ensure a secure fit. The tape should be just above the ear and along your natural hairline.
What Size Wig do you Need?
Make sure you measure your head correctly to determine the correct wig size. Firstly, take a tape measure. Measure the circumference of the head from the front hairline, down the sides over the top of the ears to the nape of the neck. If you do not have a tape measure then use a length of string and measure that length against a ruler to get the correct measurement in inches.
Small/Average = under 21.25″
Average = 21.25 to 22.5″
Large = 22 to 22.5″
XL = 23″ and above
Many of our customers fit into the average range so have a large choice. But if you fall into the large and x-large ranges then you should consider some of our middle-range wigs that are specifically for larger heads. The Estetica brand that we sell are located in the TG Wigs section and are all constructed with a stretch wig cap so will fit comfortably larger heads.
Any measurements larger than the large size must be custom ordered. This is true for all manufacturers. It is easier to custom order and less trouble of returning wigs that do not fit. It will cost more money for a custom ordered wig, but it will save you all the headaches of having to return wigs and pay fees for doing so.
Here are some helpful hints for taking good measurements:
Use a cloth measuring tape.
Measure holding the tape snug, but not tight against the head.
Keep tape flat against your head and do not allow kinks or twists to develop in the tape.
Take measurements at least 3 times to be sure. Consistent measurements are an indication that you are measuring correctly.
Braid, wrap, or lay your hair how you plan to wear it under the wig before measuring your head for your wig. Using a wig cap would be a good idea as well.
Almost all mass produced wigs have Velcro tabs or hooks inside the cap that permit adjustment for a slightly larger or smaller fit, but it still makes sense to choose your best size from those available.
Wigs come in a large variety of colors and shades. Some tipped, streaked or highlighted with other colors. Finding the right wig for you will involve choosing the right color and length that best works with your face, body, and personality of course.
For the beginning crossdresser and the more experienced girls, we carry a nice variety of styles, colors, and sizes at excellent prices here at the Glamour Boutique. And to help with the sizing issue we carry a whole selection of stretch-cap wigs, all on our website to help our clientele find a wig in the correct size.
Buying an inexpensive wig is never wasted money; even after you have graduated to more elegant wigs. There will be times when you simply want to make a presentable appearance without putting wear and tear on your most expensive wig(s). After all, you wouldn't wear your finest gown for a trip to McDonald's, so why would you wear your finest wig for everyday activities?
The bottom line in choosing a wig is that you want people to think that the hair they're seeing could have grown out of your scalp. Part of that involves not only finding a style that works, but also the right fit. An ill-fitting wig will not sit properly on the head and will slowly come away, which can be a disaster.
Wigs are a lot like anything else you buy…you get what you pay for; quality wise. Don't get discouraged in your quest for the perfect wig. It can be a fun and exciting experience creating that perfect look that will ultimately be "You".
Don't more expensive wigs tend to need more maintenance? Actually, no, that is not the case – in fact the opposite is true. The same basic rules apply for budget, middle-range or more expensive hair-pieces:
HAIRNET – If your hairpiece comes with a hairnet always store with the net on if you cannot hang on a wig head
BRUSHING – Only use a wig brush and brush from the ends of the hair up towards the crown – i.e. brush out the ends first and then move up and brush a longer length. Always brush before wearing the wig and again before storing away after dressing
STYLING – Try to purchase wigs in a a style close to what you want so you do not have to use sprays etc to re-style it. The more product you use in the wig the more you will need to wash it.
WASHING – It is recommended you wash your wig as seldom as possible. Unless you wear the piece every day/all day, use product in the wig often or the wig has picked up odors then wash no more than every 15 to 25 wearings.
DRYING HAIR – Never use a hairdryer on a synthetic wig – pat dry with a fluffy towel and then allow to air dry. A hair dryer may only be used on Human Hair Wigs.
The next time you are shopping for a hairpiece consider what an extra $40 to $50 may get you; better fit, better quality and a wig that will last longer with the minimum of maintenance.