I'm looking for methods to increase my breast size. Are they affordable, and more importantly are they safe?
Whilst a good number of our genetic girls seem to graduate from the little chicken fillet-type silicone enhancers to surgery, many of our TG clients on the road to total womanhood seem to experiment with more of the un-official, as well as official methods to increase their breast size. There are quite a number of breast enlargement methods available and you will need to decide which one's are applicable to you depending on how semi-permanent or permanent a solution you are looking for.
The most common traditional and un-traditional methods of breast augmentation for transgender and crossdressing individuals are:
Breast Forms
Hormone Supplements
Herbal Supplements
Hypnosis
Massage and Exercise
Pumps
Surgery/implants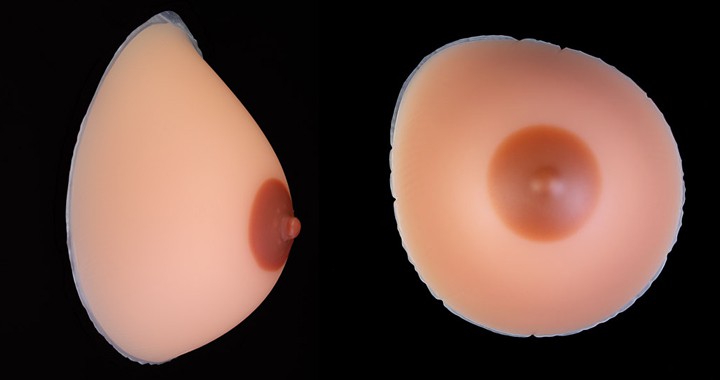 We obviously know the effectiveness of breast forms, either store bought silicone or home-made bird seed, for example. It is possible to replicate as close as possible the weight, appearance, temperature and movement of a true breast with good quality silicone forms. The market for silicone forms has changed rapidly in the last few years; a few years ago you would need to spend easily in excess of $200 at most stores/websites but nowadays it is quite possible to find perfectly acceptable breast forms for under $100. Forms made in a mastectomy lab and particularly made from German Silicone carry a premium since they are the most realistic and if purchased from a reputable distributor will come with a manufacturers warranty. Be sure to size yourself correctly and if shopping in person is not possible then be sure to shop with a website that has live customer service so you can be sure of obtaining the right size and look for your body-type.
Advantages: Quick, visible results, harmless and temporary solution.
Disadvantages: Color – difficult to match exactly, breakable – from easy to burst water balloons to messy leaking silicone depending on what quality you choose.
Expense: Cheap to moderate in price.
Herbal supplements as a method to increase breast size
For those wanting to experience true feminization but do not want the associated risks involved with surgery or hormone supplements, then herbal supplements may be a solution. Herbal supplements claim to adjust the balance and ratio of male to female hormone levels in the body to increase female characteristics such as increased breast tissue. The female hormone estrogen is responsible for most of the features we regard as being feminine; breast tissue and other curves and contouring, full lips, longer hair and softer skin. Phytoestrogens, that are present in certain herbs are said to copy the effects of estrogen, both in the female and male body and thus possibly leading to increased feminization in such as breast tissue growth over time.
Advantages: Harmless.
Disadvantages: Results are said to vary and so far no F.D.A. verification as to its effectiveness.
Expense: Moderate. Based on most distributors, a recommendation of at least a 6 month course to start.
Hormone supplements
Often part of gender reassignment, hormones should be administered with the guidance of health-care professionals. Using the hormone estrogen either in a pill or injection form, the body should adjust by taking on the more feminizing characteristics prevalent in a genetic female body. Results from hormone treatment will include noticeable enlargement in the breast area. Hormone pills such as 'Premarin' are readily available over the internet however, we cannot stress the importance of using these medications under the care of your health professional. Incorrect use of hormones can lead to eventual liver damage and your physician must assess if you are a candidate whose health can withstand such a regimen. Estrogen injections can only be legally administered by a registered physician. Also, be aware that practically the changes that come about through hormone use cannot be easily undone.
Advantages: Permanent solution for those seeking it.
Disadvantages: Results can vary according to body type. Possible health risks – correct medical advice is very important.
Expense: Moderate to high – length of course can be different for individuals and the correct professional help is not cheap.
Hypnosis, massage and exercise
These are less well-known natural methods to increase breast size, and are widely held to be the least effective for most persons. Where results do occur, they are reported to be temporary for the most part. Exercise and massage can easily be done by yourself or by an experienced masseuse in a private setting. Done regularly and with proper movements, this may result in desired enlargement over time. With breast firming exercises, adipose tissue of the breast, the tissue right above the pectoral muscle, begins to tone. Again, individual results will vary, often determined by a person's genetic make-up. One of our regular customers genetically has great pecs – all natural, and when taped she has the most amazing cleavage, but as far as we know, that is the exception and not the rule. We have yet to receive positive feedback with regards tangible results from anyone having undergone hypnosis. Other methods include breast pumps and breast-slapping but we have no proof of long-term enhancement (apart from the actual nipples) from these methods.
Advantages: No lasting side-effects.
Disadvantages: Least successful of all breast augmentation methods.
Expense: Low to moderate.
Surgery and/or breast implants
This method of breast enlargement is becoming ever more popular as part of gender re-assignment, particularly for those persons where hormones can have lasting side effects. We have seen at first-hand the results and they are spectacular. Recently, Pauline, a customer of ours visited us for the first-time in 9 months after having had implants inserted surgically. Although expensive, there was no visible scarring and the finished look is amazing. Needless to say, Pauline was thrilled and so were we as she eventually chose a surgeon that was recommended to us by a customer. The procedure usually lasts 2 to 4 hours and the recovery time is normally 10 days to 3 weeks as long as there are no complications along the way.
The implants are either saline or silicone and are inserted using a variety of methods which the surgeon feels is best suited to your procedure. These days it is rare for there to be any visible scaring after recovery since incisions are usually made in the armpit area and even the navel. Whatever you do, ensure you do lots of research beforehand. Online forums particularly those that discuss gender re-assignment can be excellent sources of good advice and leads. Be sure that any surgical practice you talk to has a lot of experience of this procedure – they will surely have done scores of procedures for genetic girls but have they performed the procedure on a male torso? Also, if embarking down this road, bear in mind it is semi-permanent and that you're prepared for the physical and mental change in your day-to-day life. Advice from professionals on gender reassignment is your first priority.
Advantages: As close to the real thing as you can get.
Disadvantages: It's a surgical procedure plus ruptures in an insert can happen though these days less likely.
Expense: From $5,000 to $10,000 just for the surgical procedure alone.
We know breast forms work as do home-made padding. Surgery definitely works but not everyone is looking to travel that road nor can they afford it. It's a matter of matching your own needs to the solutions out there but whatever you do, do your research. If purchasing a set of forms does the distributor have live customer service and a good return policy so you can exchange or get your money back if they are not to your liking? Surgery needs extensive research and professional advice; it's very important to have professionals assess your suitability. Supplements, herbal or otherwise have mixed reviews but again do your research to try to find the best solution for yourself.
Have you found the best breast enlargement method for your individual needs? We'd love to hear your own personal experiences, particularly if you have used any of the supplements which are more difficult to accurately report success rate. For any pertinent feedback emails sent on this subject that we use in a follow-up article then there will be a $20 Discount Voucher to be used online for each of the successful contributors.