At this point, if you have been following our brand for awhile, you should be familiar with Tawni Bonds. She has done some Youtube videos for our Youtube channel in the past, models our clothing and is an accomplished authoress as well as a gorgeous lady with many fans. Check out some of the videos she made for us here, Youtube.
As well as doing all of those extraordinary things for our company, she also came in second place in our 2016 Sexy Leg contest that just ended in December. If you would like to read more about Tawni, continue below to her article.
The Regenerative Powers of Dressing
This article was written by Tawni Bonds, for crossdressers like you in mind. To summarize, Tawni talks about the regenerative powers that dressing as a woman brings to her body and many others alike. If you enjoy this article, maybe you should think about reading more from Tawni. She is an accomplished author of her own biography, HERE.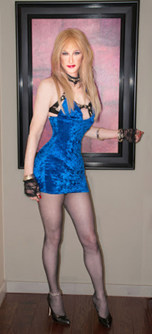 (second place sexy leg entry picture)
The Regenerative Powers of Dressing
By Tawni Katherine Bonds.
There is nothing quite like the transformative healing of dressing. Think about the last time you dressed, and for those of you who have not yet dressed, imagine what I am about to tell you! Dressing is so wonderful and amazing.
So no one is going to be home for a few days and that is prime dressing time! I am a boy. I have hair on my legs, underarms, face and oddly, only a little on top of my head. I am feeling a bit tired, a bit blue and wondering if this dressing is really worth all the trouble. I decide it isn't.
The blooms on the horizon as the sun slips into its warm, comfy bed and I am sitting here wondering what to do. Before I realize it, I pull out my make up, wig and look for what I would wear if I were going to dress. I am so tired. But something is glowing deep inside me, driving me on. So rather than fight it, I decide to play with make up a bit… and then maybe slip into something more comfortable. But much to tired to even think about going out. The idea that this opportunity is available to me and I am going to pass on it weighs on me. Dread and tiredness.
I decide to shower and under the warm flow of the water find myself shaving my legs. The warm water running down them after the shave feels so wonderful – all tingles and freshness – if you know what I mean. I luxuriate in the sensations and suddenly I am shaving my face and underarms. Now the water is really stimulating me – or is it my mind?
Stepping out of the shower and wrapping a town around my torso I am suddenly aware of the cool air, cascading over my freshly shaved limbs. It feels like a cool breath of minty clean sensations, tingling me, embracing me. I rub moisturizer all over my body and feel even better because I am all smooth and relaxed now. Deep inside I feel the excitement of dressing blossoming. It drives me to select an outfit: Skin tight black sheer top, sleeveless. A very form fitting leather miniskirt that comes to well above my knees. I decide against the thigh-high stockings and instead choose to wear nude sheer pantyhose. I pull out a matching black satin bra and thong panty set, a pair of 5-inch stiletto heels and a black leather bikers jacket that is cut in at the waist to highlight any figure I can make. Now I am almost trembling with excitement and I haven't even put anything on!
I step back into the bathroom, moisturize my face and legs again. OH the sensations of touching skin that is so smooth it sends cascades of tingling and sensual sensations all over my body!
Next I put on a beard make up foundation color that counters the blue in my beard so my skin will look just like a womans. Then foundation, contouring with a brush and sponge. I am lost in the world of art. Of creation. Of painting. Only it is my face that I am doing all this to. Time has no meaning while doing this. And when I do stop for a break I discover that somewhere during that I put on the panties, bra, breast forms, pantyhose and heels. The sound of them clicking on the floor makes me feel both visible and very excited – you can't hide when your shoes make those amazing sounds. I reach over and pull on my corset. As I begin to pull the laces tight I feel it beginning to embrace my, hug me, love me. I tighten the laces as tight as they will go, tie it off and then very slowly turn to look at myself in the full-length mirror. My figure is very curvy suddenly. No trace of the boy at all. And all the emotions and sensations combine to overwhelm me. I feel so feminine, so heated, so loved, so cared for. My reflection is pleased with the girl she is and my boy mind seems to vanish. I am that girl. That girl who is tall, slender, lovely, curvy and needs to finish her make up.
I turn back to the task at hand and first fill in my eyebrows with a very dark auburn colored pencil. As the eye shadow flows over my lids and the eye liner defines my eye shape, I begin to feel powerful. Like a woman who is wanted. Who can handle the situation. I fill in my lips with a shade of deep red lipstick, followed by a coat of pearlescent lip-gloss. I add the blush on my cheeks and some contour below, highlight on the nose, chin, top of cheeks, forehead. And then finally, I put on my black mascara, elongating my lashes forever, or is it just making what I all ready have visible?
Before I turn back tot he mirror I slip on my long blond wig, securing it with bobby pins and then, once again, slowly turn back to the full-length mirror. I am shocked at the beauty I see there. That girl I could never be with when in boy mode. She is much too good for me. Way above my class. She is sexy, hot, sensual looking. She moves in mysterious ways. Like a woman on the prowl. I could never do that! I can't even dance! But she can and she does. And it is really exciting to see her move.
I am filled with energy now. Shaking with excitement. Eager to slip into my clothes. I pull on the top careful not to smudge any of my make up. IT feels so extremely wonderful the way it hugs my, gently but firmly holds me as it caresses me torso. I step into my leather skirt. So cool to the touch that it both stimulates my legs through the stockings and make my arse feel cradled. I put a belt on to accentuate my waist, pull the jacket on, flipping my long hair out from under the collar of it.
A giant wave of cascading tingles, shivering little touches and warm caresses flow over my entire body as I step to the mirror for a last look. WOW! She is a knock out! Amazing young woman that I definitely want. Want to be. Want to have. Want to possess. Want to live like this 24/7.
Then I put on my long dangling silver earrings, my silver bracelets, a few rings, pick up my purse and… wait… where am I going? I was so tired. But now I am full of energy and can hardly wait for the adrenaline to flow as I venture outside. I have to venture out. I have to see if I am fooling myself or if I can pass. I fill my purse with my wallet, my phone, some cash, make-up items for touching up (Blush, lipstick, eyeliner). And then I am out the door feeling like a million dollars.
That boy, who was dragging just to get into the show is now this girl who is overflowing with energy. Smiling as she walks in her heels to the car. Tossing her hair to the side as she slides into the vehicle and drives off to discover the night!*
*Of course in a very safe manner. Going to places I have friends and that are protected from the crazies of the world who want to hurt us special girls, but still free enough to discover a drink from a gentleman is being placed before me with a smile and tip of his hat. Dancing, talking with girlfriends and just enjoying life!
For more stories and pictures about sexy crossdressers make sure to sign-up to our Newsletter for regular updates and checkout the Crossdressing Stories section in our Crossdressing Tips Blog.