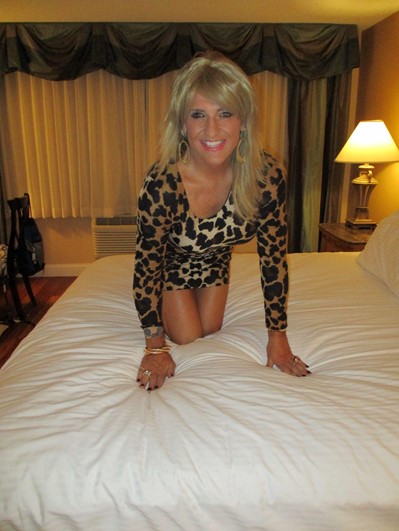 Introducing our Eye Candy of the Month: Samantha J
Our annual Glamour Girl Contest is right around the corner and in preparation for that, we brought you all a treat.  This month's Eye Candy Girl was a Cougar Champion back in 2014.  She has returned for all of us so we can get to know her better, what she's been up to and of course to see some beautiful pics!!  Let's welcome back Samantha J!!
Hi Samantha!  Thanks for sitting down with us.  Let's start by telling everyone where you are from?
Currently I live in NY but have lived in various areas of the Northeast.
When did you first start dressing and how did it come about?
My first memory of dressing was when I was about 7 or 8 years old.  I remember seeing a pair of my Mom's hosiery drying on the line near our washer.  Something compelled me to try them on…since then, my dressing has steadily evolved as I realized how much I love the feeling of femininity and doing my best to look as passable as possible!
How did you come up with your Femme name?
As I began to dress more completely I started to think of my feminine self and different names.  Samantha came to mind and it just seemed right…I wonder though if subconsciously I watched Bewitched as a child and loved Samantha the witch!  I dreamed of having her ability to change myself into anyone I wanted to be…especially a beautiful woman!
How often do you dress?
As often as I can but it is usually only about 3 or 4 times each month, if I am lucky!
Are you married/in a relationship? If yes, are you able to share your female self with your partner?
I am very happily married to the love of my life and a woman that I adore.  I kept Samantha a secret for much of our marriage which was a mistake…this was truly the only secret that I had ever kept from my wife.  I came out to her about 6 years ago because my secret was discovered by someone who I could not trust.  So I told her…it was tough but she has accepted my proclivity but does not want to see Samantha or share in the times that I do dress.  She loves me and allows me this indulgence.  I love my male life and my Samantha time.  However, my wife and family will always come first.
What are some of your favorite outfits/fashions?
I absolutely love feminine fashion.  I am partial to showing some leg, therefore I tend to wear dresses or skirts.  I love hosiery and heels, so I usually tend to go for a more upscale but casual look.
You won the Cougar category back in 2014.  Can you offer any advice for girls trying to get that perfect photo for the contest?
That is a great question and a tough one to answer.  I consider myself very lucky to have won back in 2014.  The photo that won it for me was an Out n' about shopping photo in a dress and heels outfit.  I would recommend a photo that looks natural yet shows your absolute joy of femininity that you feel inside.  That particular photo that won the Cougar contest for me was one that I remember feeling very happy inside and thrilled to be walking around and enjoying my Samantha time.
Stockings or pantyhose?
It all depends on the outfit and the mood.  However, I tend to go with pantyhose as all of us girls typically need a little extra support for our girlish figures!  However, going bare leg is always a wonderful feeling as well…!
Heels or flats? 
Most definitely heels!  Flats are only a means to an end when necessary.  The joy and feeling of wearing heels is simply fabulous!  And, the sound of heels on the floor is such a feminine thrill…
Favorite places to go when dressed?
I usually dress alone.  So I try to find remote places where I can take nice photos with my tripod without making a spectacle.  People can be strange about us girls so I try to be safe but love being out when taking photos, if possible.
Go to accessories for a night out
I am a pretty basic girl…some rings and dangling earrings.  Sometimes a bracelet or two depending upon the outfit but normally, very few accessories.  However, often overlooked is the scent of a woman, so I never leave without some beautiful smelling fragrance as an accessory!
Who is/are your female role model(s) and why?
WOW…there are simply so many women that I admire.  My wife would be the first that I look to for her classy, stylish fashion sense and beauty.  There are many women I see in day to day life or celebrities that I aspire to look like.  In general, I love women and their fashion, so I observe and note when I see a beautiful woman that is well put together and try to emulate her style.
Tell us some fun facts about yourself. What are your hobbies (either when dressed or not), likes, things you do in your spare time, or anything else you would like to share?
Even though this Cougar is aging, I try to stay very active to stay slim and help Samantha look her best.  That includes active sports in my male life and includes running and biking to stay fit.  I also love skiing and just spending my spare time being active with my wife and family.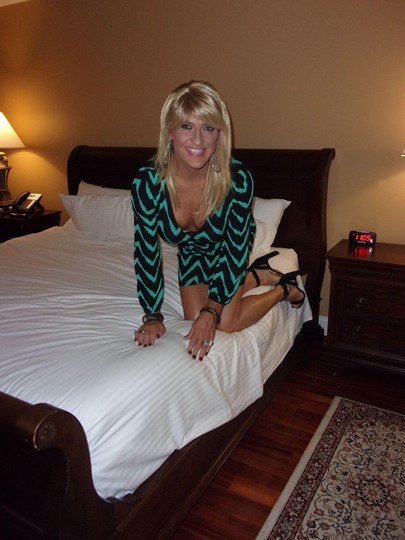 Any stories you would like to share about yourself and your journey?
Samantha has been an evolution and a journey for me.  I look back at old photos and cringe!  It makes me realize that this is all a personal journey for us.  It takes us all time to find our personal style and refined feminine appearance.  I have many stories to share but will instead offer some advice from an old Cougar…be yourself and practice your transformation and emulate the women around you that inspire you.  And smile always…enjoy the moment and find your inner feminine joy!
If you have social media, what is the best way for others to follow you?
I am on Facebook and Flickr currently.  I have a YouTube account but have yet to post there yet.   Samantha J | Flickr   &  facebook.com/samantha.johns.963
Before we go, would like to send a message to your fellow girls out there or a closing statement. 
As an aging Cougar now…my best advice to our Kittens and newcomers is to be yourself.  Be careful and always be safe, but do not let your inhibitions slow you down.  Enjoy the journey into your femininity and make the choices that best suit you and your feminine journey!
Well said Samantha. Thank you so much for talking with us and sharing your story.  
Would you like to share your story and become an Eye Candy Girl?
Let us know by emailing us at glambmarketing@gmail.com or by messaging us on our Facebook Page.  For more Eye Candy, head over to our blog and get to know some amazing girls.