Introducing our Eye Candy of the Month: Laura White
This month's Eye Candy Girl is a popular contestant in our annual contests. This year she placed 2nd in our Glamour Girl Contest in the Super Cougar category. We love the photos she sends us every year and knew that her Eye Candy interview was going to have a bunch of great shots. We were right! Let's say hi to Miss Laura White.
Hello, my name is Laura White and I am a 72 year old Transvestite that lives a very glamorous life in one of the World/s Most Popular Destinations, South Beach, FL.
The best word to describe myself is PASSION. It's that Burning Passion within me that allows me to maintain very high standards of quality both in my extensive wardrobe as well as maintaining a highly sculptured feminine body.
Hi Laura. Thanks so much for being this month's Eye Candy Girl. Let's start off by telling our readers where you are from?
I was born and raised in Cleveland, Ohio's Tremont District. The movie "The Deer Hunter" was made in my old neighborhood.
When did you first start dressing and how did it come about?
Like many TG's, my journey started at an early age of 4 years old. One evening for whatever reason I still don't know, my parents decided to dress me up in my sisters clothes. All i can remember was that incredible feeling of wearing that satin dress. I was imprinted for life.
How did you come up with your Femme name?
My name, Laura White, was selected from 2 separate people. Julie Christie played Lara in the movie Doctor Zhivago. I selected my last name White from Vanna White on Wheel of Fortune.
How often do you dress?
With few exceptions , I almost always go out dressed on Friday and Saturday evenings. However, during the Holidays, or when Art Basel is in town, I'll often be out 4 or more days a week.
Are you married/in a relationship? If yes, are you able to share your female self with your partner?
Laura is a single independent Woman.
What are some of your favorite outfits/fashions?
I consider myself to be a Fashionesta. My wardrobe consists of many High End Dresses like my Madgley Mischka, Sunkist Coral Off The Shoulder Sheath Dress. Most of my purses are Michael Kors or Chanel.
I do purchase a lot of my jewelry from Glam Boutique.
Stockings or pantyhose?
90% of the time I wear stockings. The bottom line is that when out and about, sooner or later I need a restroom stop. Time is money and Pantyhose adds an extra layer of time especially when I wear long fingernails.
Heels or flats?
90% of the time I wear High Heels. I must have over 40 pairs of heels, most are between 2.75″ and 3″. My entire lifestyle is about being out in public. On any evening, I'll take 4,000 steps or more. Those 5 inch stiletto pumps are not ideal for my lifestyle.
Favorite places to go when dressed?
My favorite places to go are the Biltmore Hotel, Ritz Carlton, Capital Grill, Season 52, Las Olas Blvd., Lincoln Road Theater, Broward Center for Performing Arts, Perez Art Museum, Art Basil and so many more fabulous places to visit.
Go to accessories for a night out
I truly consider myself to be " Performance Art ". Accessories are a huge part of creating that perfect, upscale look. Color Synchronicity starts with your basic Core Dress Color. Hair color, lipstick shade, nail shade, purse, heels, jewelry are specifically selected to create that artistic look.
Who is/are your female role model(s) and why?
I have always selected Maria Sharapova as my role model. Maria is Ukrainian and I am a first generation Ukrainian born in the USA. She has a very powerful yet very feminine body with a gorgeous face. I also love Norah O'Donnell. Her makeup is flawless.
Tell us some fun facts about yourself. What are your hobbies (either when dressed or not), likes, things you do in your spare time, or anything else you would like to share?
I am a 7 handicap golfer. Golf is a great counter balance for my complex lifestyle. My goal whether I am on the golf course or out to dinner as Laura White, is to achieve a high level of proficiency.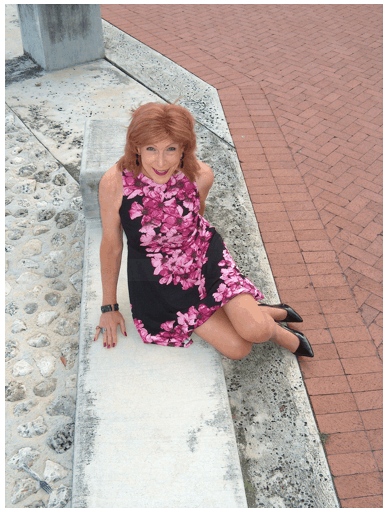 Any stories you would like to share about yourself and your journey?
I'll always remember flying as Laura to SCC in Atlanta shortly after the Airports reopened in September, 2001. Back in my early years, flying as Laura was a very stressful event. So you can imagine what it was like to fly shortly after 9/11.
I remember walking through Miami International Airport realizing that the soldiers and guard dogs outnumbered customers 2 to 1. The security screening process was very stringent. I felt that the TSA agents mistook my loud heart beat as a time bomb.
These are the types of events that define who you are and the values you stand for.
You were this year's Super Cougar runner up in our Glamour Girl Contest. Any advice to your fellow Super Cougars for next year's contest?
My advice is for everyone: Use the Contest as a Catalyst to constantly improve yourself. For myself, each time I prepare to go out as Laura, my goal is to present my best Performance Art Ever because I want to take that Winning Photo for next year's contest.
If you have social media, what is the best way for others to follow you?
The link to my flickr site is https://www.flickr.com/people/lwhitets/
If you would like to send a message to your fellow girls out there or a closing statement.
It is critical to invest in yourself. You only have one body. Treat it with respect. I am 72 years old. You don't see too many GGs at 72 that have a very physically toned body. Growing old is like climbing a mountain. The higher you climb, the tougher it gets. However, the view also gets better and better.
Thanks so much Laura. We look forward to seeing you in our contests for many years to come!
Would you like to share your story and become an Eye Candy Girl?
Let us know by emailing us at glambmarketing@gmail.com or by messaging us on our Facebook page. For more Eye Candy head over to our blog and meet all these amazing ladies.