A guide to some fashions for the holiday season
The last few months of the calendar year ushers in the party season for many transgender girls. The majority of events our local customers attend are evening events and so our range of cocktail-style dresses for men are the 'order of the day'. Choose the right evening dress for your shape and you can be the 'belle of the ball' with some basic styling.
Some girls will dress in costumes for the festive party season which of course is great fun. But once worn will you wear that costume again? Far better to find a classic cocktail dress style that suits you and change up your look with appropriate accessories. With simple switch of shoes, matching belt and clutch bag, along with some chic rhinestone jewelry you can make a dress look a completely different outfit.
We're going to keep it simple and highlight a few winning dress styles for crossdressers to wear this holiday season.
Classic Little Black Dress
Let's start with a standard that should be in every girl's closet. The Little Black Dress is a style of cocktail/evening dress that goes back almost a hundred years, but really started to gain popularity in the 1960's. Why has this dress stood the test of time? Because depending on the occasion, you can accessorize this dress for almost any occasion. For a daytime event, a jacket and some pumps would be a great choice. For an evening event, put on some of your best jewelry and some evening accessories to really show your fashionable side. The versatility of the Little Black Dress makes it a must have. No matter the event, this minidress will turn heads and keep you feeling sexy all night long.
Flared Dress with an Empire Waist
The Flared Dress with Empire Waist is a great choice for party wear. This is a dress for those of you that may be looking to hide those extra few pounds in your belly as the "Empire waist" means that the waist appears just below the bust and then flares making it a flattering look for pear shaped girls with a little (or a lot) middle-age spread in the belly area.
Another plus is that an Empire waist dress helps to accentuate the bust and hips for those of you out there looking to show off a bit. As the dress flares out by the waistline, it will swing while walking giving off the appearance of genuine female hips. The Flare Purple Lace Sleeve Dress is a perfect example of the Empire Waist style and a dress that screams "fun!" This dress was also made with CDs in mind as the cut around the shoulders helps to feminize your figure even further.
Peplum Dresses
The Peplum Dress became a popular style in the 1940's and over the last few years has made a big comeback. What makes this a great fashion choice for CD's besides the fact of it's regained popularity is that a Peplum dress adds a small extra sewn in skirt to the hip area offering that hourglass figure look we all crave since the volume creates the illusion of hips. This is another of those great party dresses for men.
Look out for our new Peplum dresses made for crossdressers coming to the GlamourBoutique website at the end of the year.
Cold Shoulder Dress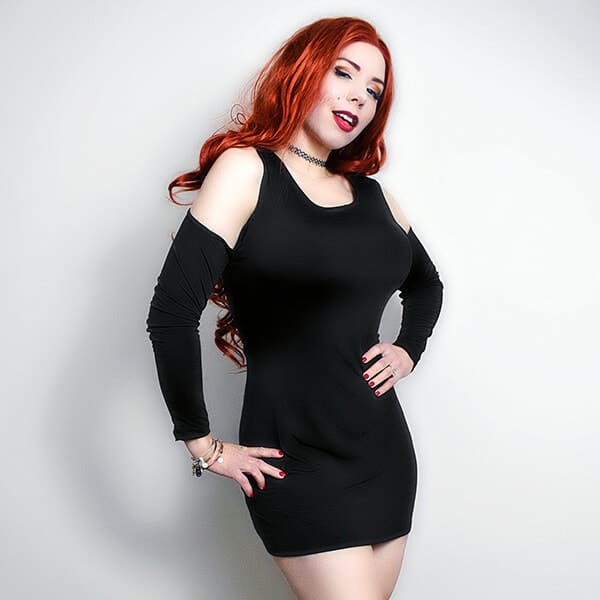 Another trendy style that is a great choice for CD's out there is the Cold Shoulder Dress. Named for its open shoulder followed by sleeves in various styles. If you look in catalogs, there are pages upon pages of cold shoulder dresses out there as we feel it will be one of the top looks this year and next.
A plus for us girls is that the open shoulder helps hide the broadness of the male shoulders giving off a more feminine look. The Cold Shoulder Dress is so popular right now that you have endless choices for the overall look of the dress, making this a great style for everything from a holiday cocktail party to a wedding and any kind of party in between. Show off your fashion sense with one of the hottest styles out there.
Remember your accessories
With all of these great options for dressing this season, one thing we need to make sure to do is accessorize, accessorize. A nice necklace paired with some earrings can go a long way. Jewelry of any kind can really add to your outfit and make your look complete. For some of these dresses, a belt may be of use to take a little away from the belly area as this will tighten your frame a bit.
Depending on the party, different accessories may work better than others. For example, for a cocktail hour, you should be dressed up with heels and a nice purse with some showy earrings. For a company party, you should look a little less flashy and go for possible a pair of flats for shoes and simple jewelry.
Holiday season is always a fun time of year and now with some great party dress ideas, there are endless options for you to be the belle of the ball. Keep checking Glamourboutique.com as we are getting in new shipments of dresses and outfits within the next month. Let us help you make your next party a memorable one.