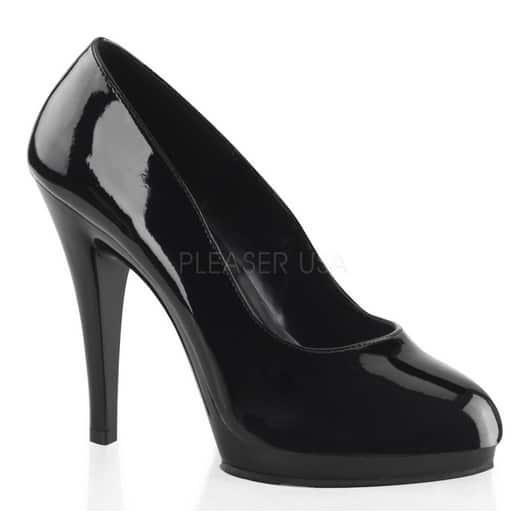 It's one of the issues that girls have been dealing with forever: how to find shoes that are seriously sexy, but, at the same time, are comfortable enough to at least keep on all night.
An attractive pair of heels is a very feminine staple. It adds height and definition to the legs, especially the calves. They also tend to force the wearer to take smaller, more-dainty, lady-like steps. But as most of us know, finding attractive women's heels that wont kill our feet by the end of the night is especially hard to come by. Plus, we have to go out of our way to find manufactures that make extra large shoes for our large feet.(13+).
At Glamour Boutique we don't agree with the 'no pain, no gain' mantra, if we can help it. Improperly fitted shoes can have adverse health consequences including poor circulation, arthritis and back pain. But, by following a few simple tips your shoe fittings and shopping trips, need never be a pain ever again.
The basics of any girl's wardrobe consists of, at least, one pair of heels. It creates a very feminine look, which is why it is important for CD and TG woman. Heels can help create a convincing femme form just as well as a simple dress with shape wear, like: steel-boned corsets, and padded panties. A simple pair of 3 inch pumps can give anyone an instant feminine posture. It will also give them instant definition in their legs and will directly impact how they walk.
If you are buying your first pair of heels then start conservatively with a heel of 3 inches or less – once you have mastered a lower heel then you can graduate to larger heel-height. Do not be tempted to jump in with a pair of 6 inch sexy heels when you have never worn a ladies heel in your life. Trust me, you don't want to twist your ankle because that is what will happen. Make your first experience of buying your first set of heels a pleasant and comfortable one – it will make your purchase feel all the more sweeter.
First, consider where to find larger-sized ladies shoes. Most suppliers cater to the average sized lady foot so, it will not be well stocked in sizes 12 and above. Plus, most manufacturer's do not cater nearly as well to the larger sizes. Some of your local cut-price shoe stores might have some great finds in them, but call ahead to ask so you don't waste a journey. Internet shopping has resulted in some specialist vendors carrying larger ladies shoes, but make sure to read the Return Policy of any perspective retailer you intend to purchase from.
Minimize the chance of having to return/exchange shoes by following the simple Sizing Tips which you can apply to any make of shoe:
Covert Male to Female shoe size by adding 2 full Sizes e.g. a Size 9D Male foot = Size 11 in a ladies shoe
If unsure of your shoe size then measure your foot whilst standing – measure from the back of the heel to the front of the large toe and give this information to the retailer when shopping to ensure they send you the correct fitting shoe
Leave a minimum of 3/8″ between the end of the shoe and the big toe – if less then move up a size
If one foot is larger than the other then always size yourself for the larger foot. You can always use an insert to pad the shoe of the smaller foot
Key to good shoe shopping is getting your size right. If you cannot visit a specialist retailer then follow the steps above and call a reputable supplier. You can call Glamour Boutique 7 days a week at 1-888 721 8688 with your foot measurement and we'll be glad to find some shoes for you.
When shopping with an internet supplier and your shoes do not fit, make sure to follow their Exchange Policy for returning. This will ensure an easy exchange. Make sure to try the shoes on whilst on a carpeted surface. This will ensure that the soles do not get marked or scuffed up.
Other tips to consider: when buying very pointed shoes, go up an extra size for extra toe space. Also, open-toe shoes, like sandals, make for a great first pair of heels. Sandals allow for more space in the shoe making it usually more comfortable to walk in.
Do your homework and find reputable suppliers of larger shoe sizes and you will find it is possible to get a pair of sexy but well-fitting shoes. As long as you follow the simple sizing guidelines and work with a reliable retailer that has great prices on gorgeous shoes, you will be perfect. Good Luck!