TOP 10 SUPER-COUGARS, Glamour Girl Contest 2021:
We are in the home stretch.  Before the end of the month we will know who our 2021 Glamour Girl winners are.  This year's Super Cougars are a bunch of familiar faces as nine out of our ten girls are contest vets.  Let's not waste any time.  Here are our Top 10 Super Cougars.
Let's start by meeting the newcomer who showed us she has what it takes to hang with our vets.  Congratulations to our Super Cougar newcomer Top 10 girl, Eulah Johnson.
Now while we have some girls who were in last year's Top 10, six of this year's Top 10 didn't make it that far last year.  Three girls made it to our Top 20 last year but fell short of the Top 10.  This year is a different story as we congratulate and welcome Bobbie Vance, Linda Francine and Wanda Harrington to our Top 10!
The rest of our vets have had various levels of success over the years and are also girls that many of our loyal readers and contest fans know and love.  Congratulations goes out to Denise DeMann, DeeDee Allen and Lori Luvz!
Our three returnees to the Top 10 this year are a special bunch.  Eve Taylor is a vet that is always in it and ready to win.  She is joined by last year's runner up Laura White, who is ready to take that final step and win the whole thing.  Last but certainly not least is our first grand Champion and contest legend, Carollyn Olson.  Congratulations ladies!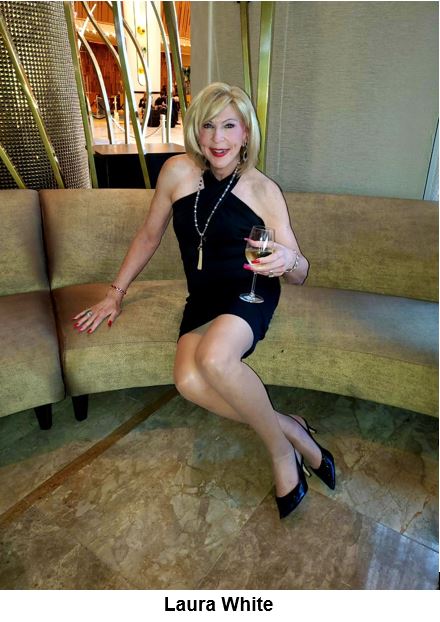 What a fantastic group of Super Cougars!  Age is definitely just a number with these ladies.  We would like to thank our Top 20 Super Cougars and we hope to see you in many more contests in the years to come.  We would also like to wish our Top 10 good luck as our judges will now pick our final 3 including our Super Cougar Champion.  Who is your pick to win it all?  Let us know by emailing us at glambmarketing@gmail.com or by posting to us on our Facebook page.  For past contests, head over to our blog.
TOP 10 SUPER-COUGARS, Glamour Girl Contest 2020:
After 5 months and close to 600 entries, our Glamour Girl Contest is coming to an end. We were so happy to see our Super Cougars come out in such high numbers this year. Our judges had such a tough time picking our Top 10 as any of the Top 20 girls could have easily gotten a slot here. Without further ado, here are our Top 10 Super Cougars for 2020.
Let's get this list started with our two newcomers. Donna Marie was very popular this year as she placed in the Top 20 in our Newcomers category as well. Diane just missed out on a Top 20 Newcomer spot but made up for it here as she is a Top 10 girl! We hope to see much more of these two lovely Super Cougars in the years to come.
After those fresh faces, let's see some of our vets that have made it into this year's Top 10. Candace Starr and Susan Larson are our next two Super Cougars. Candace has caught some eyes in the past making into the Top 20 before. Can she ride a wave to the Top 3? Susan's entries were just lovely. Joining them is the lovely Kate Harris who our judges had so many nice compliments toward her entry photos and we are glad to see her rising in this contest.
These next four finalists are no strangers to this contest. Eve Taylor has finished high on this list before and is always a fan favorite. Her elegance is one of her many fine qualities and we think before she's done she will see a champions crown.
The sexy Tawni Bonds always shows us that age is just a number. She flaunts those nice long legs so well and is always a contender in this age group as well as our People's Choice category as she has quite the fanbase.
Each year Laura White is a favorite of our offices and our judges as she sends us a beautiful picture of herself. Many times in front of a lovely fountain. Laura is just waiting for her moment to shine as a Super Cougar champion. Maybe this is the year.
Lastly is the legendary Carollyn Olson. One of our contest originals, Carollyn is a former Grand Champion. She decided to give this contest a go again a decade after her big win and there are very good odds she could take the crown again. We shall see. It was such an honor to have her back and we hope to see Carollyn back again next year.
Our last Top 10 finalist is the beautiful Gina L. Gina entered this contest a few years back and then disappeared. Lucky for us she has returned. Her late entries gained our eye right away and we are glad to have her back. Her decision seems like a wise one as she is one step away from a Top 3 spot or maybe even a win.
Congratulations to our Top 10 and to every Super Cougar who entered this year's contest. We love doing this for all of our girls out there. We have so much fun getting your entries and our excitement to see who our judges pick is always high. We cannot wait to see the Super Cougar winner!
Who do you think is the Winner? See who the judges chose as the Winning Super-Cougar HERE.
For more Glamour Girls, check out our Contest Page. Did our judges get it right? Let us know who was your pick for Super Cougar Champion. Email us at glambmarketing@gmail.com or by commenting on our Facebook Page.
TO SEE MORE GORGEOUS SUPER-COUGARS TAKE A LOOK AT LAST YEAR'S TOP 10 SUPER-COUGARS
Here we go! Here are our Top 10 Super Cougars in this year's Glamour Girl Photo Contest. The last week has been hard on our judges as they have been debating over which girls should make our Top 10. We love seeing the Super Cougars top themselves every year, showing everyone that just because they are in the older age group doesn't mean they can't bring the sexy. With a nice mix of Top 10 returnees and new blood, we are anxious to see which one of these lovely ladies will be bringing home the title of Super Cougar Glamour Girl.
First off, last years Super Cougar Champion, Susan Albright is showing that she does not want to give up her crown as she continues to move forward into our Top 10. Can Susan claim her second title in a row? It will be tough as this year's crop of Top 10 girls are showing they are here to win.
Along with Susan, we have three more Top 10 returnees. Welcome back Dee Dee, Eve and Leone!
One newcomer to the Top 10 is someone many of our readers may already know pretty well as she has been a Top 10 finalist and runner up in our Sexy Legs Contest and has now cracked the Top 10 here, Tawni Bonds. Tawni was also in a heated race this year in our People's Choice Category, but you will have to wait to see how that turned out. Another girl breaking through to the Top 10 after stalling at the Top 20 last year is Samantha.
The final four Super Cougars are all newcomers as well. These four girls are definite threats with two of them, Nora and Tippy, having also cracked the Top 10 in our Newcomers category as well. The chance of having a double winner this year is still alive and well!!
Congratulations to our Top 10 Super Cougars!! This truly is anyone's to win. We are just as excited as you are to see who wins this year's Glamour Girl Super Cougar Award. Did our judges get the Top 10 right? Who do you think should win it all? Let us know by messaging us on our Facebook Page or by emailing us at glambmarketing@gmail.com To see the rest of the Top 10s and to look back on past contests, head over to the Contest Page on our Blog.