A common question we are asked in our store is should I be crossdressing my age? Our initial answer is you should always have a crossdresser wardrobe selection that makes YOU happy, first and foremost. However, if you go out in public and you wish to do your very best to 'pass', then you may wish to consider an authentic and age-appropriate appearance. Our experience when we do makeovers is that the average crossdresser looks 5 to 10 years younger when they have a good makeover with an appropriate wig style. This is surely one of the many joys of being a crossdresser. Just be careful not to present too young. Dressing and presenting as a 30-year-old when you are a 60-year-old male will not look authentic. Be aware of good clothing styles to dress appropriately along with wig styles and makeup application. This blog post is designed to help you with age-appropriate dressing, so whether you're in your 20s, 40s or 70s, you have the best chance at passing as female.
Crossdressing in Your 20s
If you're wondering how to dress in your 20s, you'll be pleased to know this is a great time for you to have some real fun with your crossdressing appearance. Be adventurous and try different styles both in your crossdresser wardrobe and makeup with your wig style selection. Stay in touch with fashion trends and let these inform your decision making. If you find you like staying in touch with changing trends, then keep a selection of staples garments in your closet so you know you always have a cute-looking young outfit and style that will work anytime. These are our recommendations:
Tight Cocktail Dress / Little Black Dress (LBD): For all those club nights you'll be going to in your 20's you'll need a short-hemmed bodycon dress to make you stand out in the crowd. Dresses like our black velvet number is a great option to consider.
Stiletto Heels: Nothing says 'youthful' more than a sexy pair of legs with their shape accentuated by a pair of 5" stiletto heels.
Blazer: A blazer can be paired with dresses for more formal evenings out and even with leggings or jeans for a daytime shopping trip. Again, you pair it with a simple t-shirt top or a blouse for multiple dress and style options.
Makeup and Hairstyle: Keep your makeup application light and more natural to show your youth and look to wear longer hairstyles if you like them. You can play around with more contemporary styles as a younger crossdresser. You could even opt for some accessories such as scrunchies too.
Crossdressing in Your 30s
Whilst youth is most definitely still on your side, the 30s is definitely a decade for refining your style and adding more sophistication to your overall look. Go through your closet, be ruthless and remove any garment that does not fit with your style. For example, that neon green t-shirt that worked in hot, sweaty nightclubs during your 20s probably no longer has a place in your wardrobe. Now you are hopefully established, choose fewer, better quality, classic garments that transcend fashion rather than cheaper options trying to cover each season. You can still wear short hemlines but vary it and make sure to include some classic pieces to mix and match and elevate your style. Here are some ideas to add to your wardrobe to help you with age-appropriate dressing.
Pencil Skirt: Nothing says style and sophistication more than a pencil skirt. A perennial classic that never goes out of style and is just as sexy as a mini-skirt.
Slingbacks: Keep your stiletto heel pumps in your selection but add some sling-backs too for a little sophistication to dresses, skirts, pants and even jeans.
Accessories and Jewelry: Often an afterthought with many crossdressers are accessories but they make or break the style of an outfit. Elevate your appearance with carefully chosen accessories like belts and bags to coordinate with your shoes. Add chic earrings, necklace and bracelet but make sure they are all the same color!
Makeup and Hairstyles: At this point, it's worth thinking about starting a regular skincare regime. Take time to have a session with a professional makeup artist to get advice on the right products and color selection to ensure you look as natural and authentic as possible. Add some sophistication to your hairstyle with contemporary cut wigs like a feather-cut style.
Crossdressing in Your 40s and 50s
Most crossdressers have changed body shape by the time they are middle-aged. Knowing your body shape or the best female shape you can achieve with prosthetics and shaping garments are key to the style you present. You should now know the style of dresses, skirts, tops, that work best for you as a crossdresser in your 50s. Don't be afraid of trying new trends but as someone who is probably established in life, make sure to continue to invest in keynote pieces that fit and flatter your unique feminine style. Crossdressing 40s women do not dress like your grandmother. They tend to have established their own chic style and continue to be adventurous with their overall appearance. One of the keys to dressing your age in your 40s and 50s is to always remember the classics:
Little Black Dress: You may be older but you still go out at night so you definitely need your classic LBD. Make sure it fits you well, and that you choose a style that you feel comfortable in. We find that longer sleeves are higher necks can be very flattering for ladies in their 40s and 50s.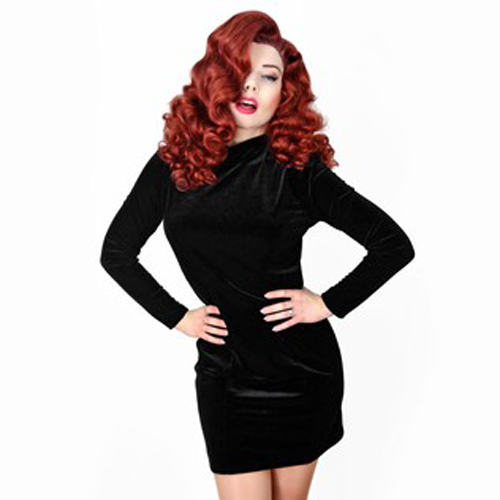 Flats and Sneakers: You still have stilettos for your special occasions, but flats and sneakers can be mixed and matched with more formal outfits. They can be much more comfortable too when on your feet all day!
A Long Coat/Trench Coat: Nothing says style more than a long figure-enhancing coat like a trenchcoat tied in to accentuate the female waist.
Makeup and Hairstyles: Learn how to do a basic female eye and facelift to help keep you looking youthful. It's not complicated and takes 5 to 10 minutes at the beginning of your makeover. Make sure to use primers as the skin ages to ensure a good even foundation coverage rather than too thick a makeup application.
Crossdressing from 60 Years and Over
Sixty is definitely the new 50, where crossdressing is concerned. You know what shapes, colors and textures work for your body and shape by now so be precise with your new garment selections. Don't go too short on hemlines but don't be afraid of wearing a knee-length skirt if you still have shapely legs. Try to take care of yourself with a sensible diet and easy exercises to help with your feminine shape. Continue with your skin-care regimen and keep makeup application light, particularly during the daytime. Recommendations include:
Wardrobe Selection: Don't fill your closet with soft pastel colors and long hemlines. Dress to your strengths and maintain the feme-confidence you have built up over the years. Select bold colors with big prints and patterns if you like. Find a good tailor/seamstress to make your key pieces fit and flatter your shape more precisely.
Wedges and Heels: Comfort has to be a consideration as you enter your 60s, so obvious selections like stylish flats will be part of your closet. But there are plenty of stylish lower-heel shoes which will still be chic and feminizing to your leg shape.
Classics over Trends: As you get older classic pieces that fit your personal style are much more appropriate than jumping on the next trend that simply doesn't work for your own style and shape.
Makeup and Hairstyle: If you haven't mastered the best makeup application then seriously consider a session with a professional makeup artist who works with crossdressers. They can teach you all the simple tips for a healthy, age-appropriate makeover. At the same time ensure your wig is a contemporary style that a 50's or 60's stylish woman would wear.
In conclusion, dress to the style that makes YOU feel like the woman you are when en femme. These are simple guidelines and not rules. Dress for confidence, comfort and fun. Just be aware as you move into middle age, your skin and body shape change and so look for those transformation solutions in our blog to help extend a more youthful look. For beauty products to enhance a youthful makeover always use primer and beard cover at the beginning of your makeover. This will ensure a much more natural appearance for your makeover. Good luck and enjoy, we hope we've helped you explore how to dress for your age.