Sale!
Extra Strong Double Boned Satin Corset
$129.95
Extra strong 22 steel boned satin corset for extreme waist reduction of up to 6 inches. Thick cotton twill lining and strong cord lacing ensure a durable corset that will last.
Product Description
Our newest addition to the GlamourBoutique.com corset range designed especially for our serious tight-lacing clients. Crafted from extra strong satin panels, strengthened cotton lining and 100% steel boning, these corsets are designed to be used all day, every day if needed. Complete with 22 steel bones these corsets are all around reinforced to last. With longer 13-inch front busk length they are intended for average to longer torsos. Incorporating the same underbust line as our top-selling Underbust Corset for Longer Torsos the silhouette created is the most flattering for a true female shape.
Together with the stainless steel front busk, all-metal grommets for easy tight-lacing and the strong, authentic, traditional cord lacing this model is our strongest corset to date. We have also included a full 5-inch modesty panel/flap for the back to protect the laces and to create a seamless silhouette from the rear.
Start off with our best selling Black Satin or why not add the White or Red Satin that is also made to the same exact standards. Guaranteed to last and as always you are protected by our no-quibble return policy on all corsets. If you are not delighted with your purchase upon its arrival simply follow the enclosed easy return instructions and we will refund you the full cost of the corset, no questions asked.
Our regular customers keep buying our corsets because they can trust us to deliver great products at reasonable prices.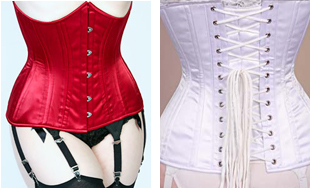 If you are serious about waist-cinching or just wish to have the best feminine figure when you dress then these double-boned corsets are guaranteed to make you look and feel the best you can by flattening your abdomen, sculpting your waist and giving you improved posture so you have a true hourglass figure.
GlamourBoutique.com do NOT sell plastic boned corsets. Such garments cannot be used for cinching the waist. All of our corsets are of traditional design; using the strongest materials to ensure a long, trouble-free life of tight-lacing. This corset does not come with garter tabs so a garterbelt is recommended for stockings.
If you follow the easy-instructions enclosed with each corset order you will not only reduce your waist but will have a corset that lasts a long time with proper use. Wear a tight t-shirt, cami or teddy as a liner between the skin and corset and you will protect the corset from sweat and body oils and thereby reduce any cleaning/maintenance in the future.
Made from deluxe materials including 100% stainless steel, flexible steel boning – flat and spiral
100% durable cotton-twill lined with soft, strong outer-panel material
Traditional Eurpean design
Intended for tight-lacing and guaranteed to last under normal use
Superior artisanal workmanship ensures each corset is made to exacting standards
All styles and sizes in stock ready to ship direct from the U.S.A.
Easy-returns for size exchange
No quibble money-back guarantee if you are not satisfied with your corset(s) upon inspection
Live customer support 7 days a week for help with sizeing on 1-888 721 8688
How do I choose the right size corset?  
To get the right fit for your corset, you will want to start by using a tape measure to measure the narrowest part of your waist, which you can find by bending the top part of your body with your legs straight – where your waist creases is going to be the place to measure.
Take 5-7 inches off this number, and this will be the size you need for your corset.
Handy tip: If you can pinch an inch or more of soft flesh around the waist then you can deduct up to a maximum of 7 inches from the actual waist measurement, otherwise deduct just 5. We recommend with the double-boned corsets that you deduct a full 7 or 8 inches if your waist size is 38 or above to get the correct size. These corsets are extra strong, so a full 8-inch cinch is possible.
For further guidance, read our corset shape and style blog post, or head to the corset and waist training help section of our blog.

Size specifications 
| | |
| --- | --- |
| Corset Size | Actual waist measurement |
| 20 | 25-27 inches |
| 22 | 27-29 inches |
| 24 | 29-31 inches |
| 26 | 31-33 inches |
| 28 | 33-35 inches |
| 30 | 35-37 inches |
| 32 | 37-39 inches |
| 34 | 39-41 inches |
| 36 | 41-43 inches |
| 38 | 43-45 inches |
| 40 | 45-47 inches |
| 42 | 47-49 inches |
| 44 | 49-51 inches |
| 46 | 51-53 inches |