Waist training is a process of reducing the waist over time when using a traditional steel boned corset. Over time when tight-lacing a steel boned corset the reduction is achieved by:
Cinching the waist down repeatedly which encourages 'muscle memory'
Reducing the stomach which in turn reduces appetite and calorie intake
Anyone can waist train but the most dramatic results are seen on people with excess fat in the waist and belly region. Progress can be quite dramatic and we frequently see waist-reduction of between 2 to 3 inches in the first 2 to 4 months.
Waist training with a steel boned corset is not a fad diet, it is more of a 'lifestyle' choice, though once a person has reached their own waist reduction goal/weight loss they may choose to stop wearing the corset and only bring it back out if diet and lifestyle lead to an increase in weight again.
For fast and lasting results you need to be disciplined when waist training. Initially you will need the following:
A well-fitting and strong steel-boned corset from a reputable supplier like www.GlamourBoutique.com
Time to wear the corset; better results are achieved with a few hours wearing a day rather than just 8 hours every Saturday for example
Eating more frequent but smaller meals in a day (the corset encourages this)
Moderate exercise e.g. walking
CHOOSE THE RIGHT CORSET: It's important you choose the right style and size of corset when you are waist training. It must be steel-boned and laced up at the back with strong cord lacing. Plastic-boned garments and ribbon for lacing do not work. A good corset will have a strong cotton lining for absorbing perspiration (and allowing quick drying) and outer panel material of Satin, Leather or even Cotton which is both very strong and breathable for extended wearing.
If new to waist training then read the directions on a suppliers website regarding sizing and do not guess. Maximum results will be achieved quicker with a perfectly fitting corset. Glamour Boutique even have a live customer care number 1-888 721 8688 where one of our experienced fitters will talk you though the correct procedure when measuring for your corset. Also, we always recommend an Underbust Corset with your first attempt at waist training as they are easier to size and to lace up.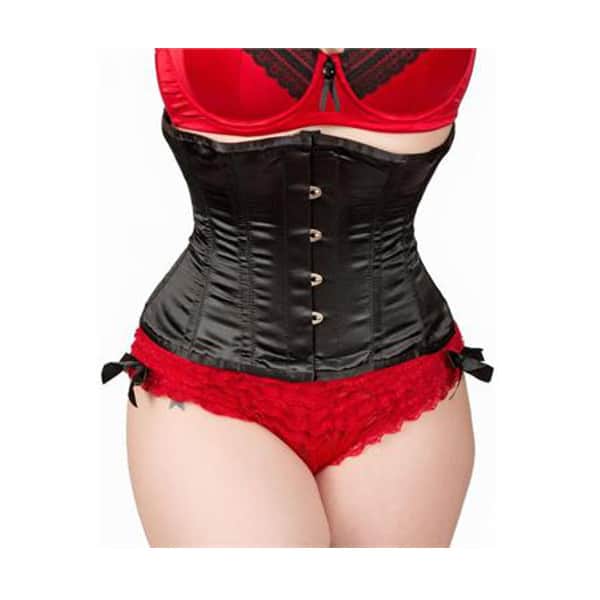 WEARING YOUR CORSET: All steel boned corsets need to be broken-in. This means wearing the corset for the first 5 to 10 days (a few hours at a time) cinched snug but not overly tight. This allows the corset bones to soften, flex and form themselves to your body-shape for optimum cinching. Once broken in you can tighten the corset each time to a point to increase reduction whilst still being comfortable.
The first time you wear a corset you will cinch the corset in for up to 2 to 3 inches reduction if you have the correct size corset. Over time, the waist training will lead to further reduction and eventual permanent reduction (that is the waist maintains it's narrower shape even when the corset has been removed).
For fast results wear the corset 3 or more hours a day. If worn everyday over time. then the waist starts to use muscle memory and in time when you remove the corset your waist will retain the laced-up corset shape on it's own.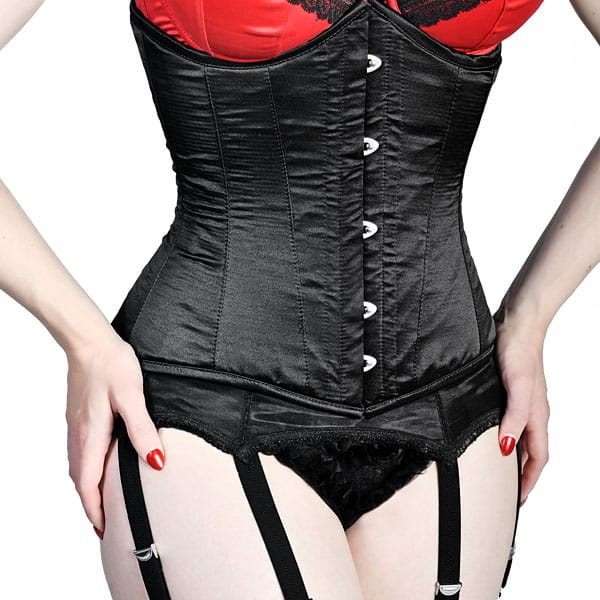 NO EXTREME DIET REQUIRED: Waist training does NOT mean punishing yourself and going without. You will find if you wear the corset during the day the reduction of the waist and stomach reduces the appetite and encourages eating smaller meals. It obviously helps if you have a balanced diet including proteins, fruits and vegetables but the reduction itself will make you feel fuller, quicker.
GYM MEMBERSHIP NOT NEEDED: If you already exercise then great but it is not necessary to run, lift weights etc to waist train. Try to include some moderate paced walking in your day. Use stairs rather than an elevator, for example and even take a brisk 20 minute walk at lunch or after work. Not only will you improve general fitness but you will build up a little heat under the corset and accelerate the process even more.
Waist Training works and as part of a regime to feminize is crucial to many crossdressers. In our New Jersey store we see that those girls able to wear their corset everyday see very quick results. Remember, a corset when worn for the first time or infrequently will take 2 to 3 inches off the waist and give a more feminine hourglass shape immediately. But for a lasting narrower waist, training should be done at least a few hours a day. When this is done the waist narrowing becomes permanent over time.
For authentic, quality steel-boned corsets made for waist training, made for crossdressers at a price that cannot be beaten anywhere, browse our Corset Collection.